Continuing the legacy of Vanced.
YouTube ReVanced is a modded version which offers Background Playback, Ad-Free content, SponsorBlock, Return YouTube Dislike and many more.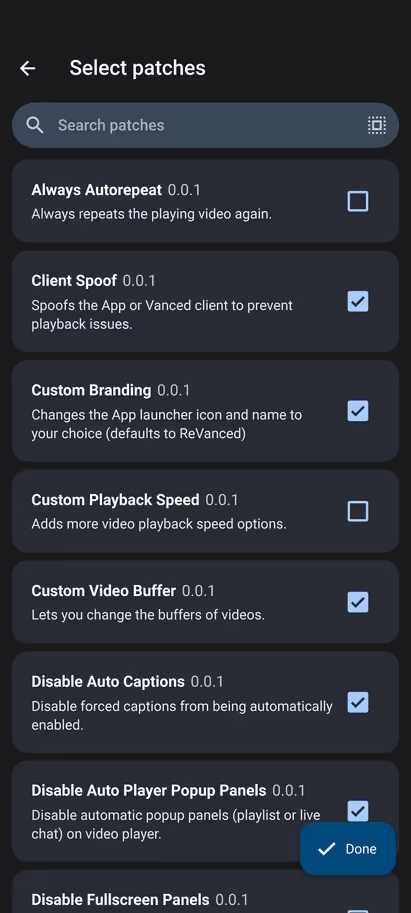 YouTube ReVanced is an updated project of the most liked Youtube Vanced, that includes background playback, ad-free content, SponsorBlock, Reverse YouTube Dislike and more.
YouTube Vanced is dead and we will always cherish the simplicity it created for everyone on the platform. But we can't sit back and wait for its resurgence when many other viable alternatives offer similar features and a better user experience. One of the most anticipated alternatives to Vanced  is the official YouTube ReVanced APK replacement. The app is still in its infancy, but it offers some impressive tweaks to keep the core YouTube Vanced features and  Vanced legacy alive. In this post, you will learn everything you need to know about the YouTube ReVanced app.
YouTube ReVanced is a free, customizable YouTube client that replaces the discontinued YouTube Vanced, providing users with similar app features and other additional modes. It also includes ReVanced Music, which allows users to stream their ideal music genres with all the benefits of YouTube Music Premium. However, the ReVanced APK is currently in its infancy and is not available as an APK, but  as a builder that you can use to build your own apps.
Download YouTube ReVanced APK and Magisk Module for Android
APK File
To install the latest version of ReVanced, first download the APK from the provided link
No technical expertise is needed for the easy installation process.
Note that MicroG must be installed prior to installing the ReVanced files.
Make sure to uninstall any previous version of the app before proceeding with the new installation.
The Extended version of the app is based on inotia00 sources."
Magisk Module
Installing this Magisk Module requires a rooted device with Magisk Su. Unlike the APK installation, no MicroG is necessary as it utilizes Google Play services.
It's important to note that this process is more technical and not as straightforward as installing an APK.
No MicroG needed
A technical understanding is required to complete the procedure. Additionally, the MinDetach module should be installed to detach playstore dependencies.
YouTube ReVanced includes tons of features, mostly similar to its predecessor, YouTube Vanced. You can listen to music in the background while browsing other apps, return the number of YouTube likes removed from the platform, adjust your own playback speed, disable advertising and remove the support section. There are many other YouTube alternatives but ReVanced APK has shown its potential by giving users premium YouTube features and the best experience with various fixes.
Additionally, the Magisk mod framework is required to successfully install the mods to the root.
With the help of MicroG, APK file will work efficiently on any android device.
Simple to Install.
No prior knowledge in technology is needed.
You must install MicroG before the ReVanced APK.
You need to uninstall the previous version before installing the new and updated version.
Magisk Module
If you want to install this module, you need to be rooted with Magisk Su. There's no requirement to install MicroG as it contains Google Play Services.
You need to have sufficient technical knowledge to understand this process.
This procedure is not as simple as downloading and installing an APK file.
You don't have to use MicroG.
For detaching the playstore dependencies, you must install the MinDetach module.
If you don't want to use the APK, please click here to learn How To build Your Own YouTube ReVanced APK. Or download the latest version of ReVanced Manager to build your app today.
More Amazing Features
With MicroG you can sign in to your Google account and access all your settings from YouTube Vanced. We are now doing the same with YouTube Revanced.
Premium branding for YouTube Premium users will appear in the revised app with a realistic look. The advantage for users is that no one can tell the difference between Revanced and the original YouTube Premium subscription unless you customize your home page branding.
Brand watermarks allow creators to add their logo to every video on their channel. With the YouTube Revanced APK, you can automatically hide this brand his image from all your videos, so you can see the entire content without overlapping the logo.
Remove Full-Screen Panels
This feature allows you to disable the video description and comment box in full screen. This feature is useful for users who want to view content without showing panel features and settings during video.
Videos can now be set to auto-repeat by default when the video ends. This saves users the trouble of going to their phone and manually restarting the video.
Revanced can play HDR videos in any auto-brightness mode supported by your device. This mode provides streamers with optimal brightness settings for high dynamic range video on the platform for the best streaming experience.
Amoled provides the YouTube Revanced app with a pitch black theme like the dark mode of the original YouTube APK. This theme uses less power when displaying dark backgrounds and reduces the light emitted from your device to protect your eyes from glare and reduce eye strain.
Bugs can sometimes cause your app to lag or throw various errors with ramifications, and this feature helps solve the problem. With Revanced APKs, debugging is automatically applied to your app and works during streaming to identify relevant errors and work to fix them.
Advertisement
How to Install ReVanced YouTube APK on Android?
You must download the MicroG APK file in the first step. 
Now press the MicroG file and allow the source option.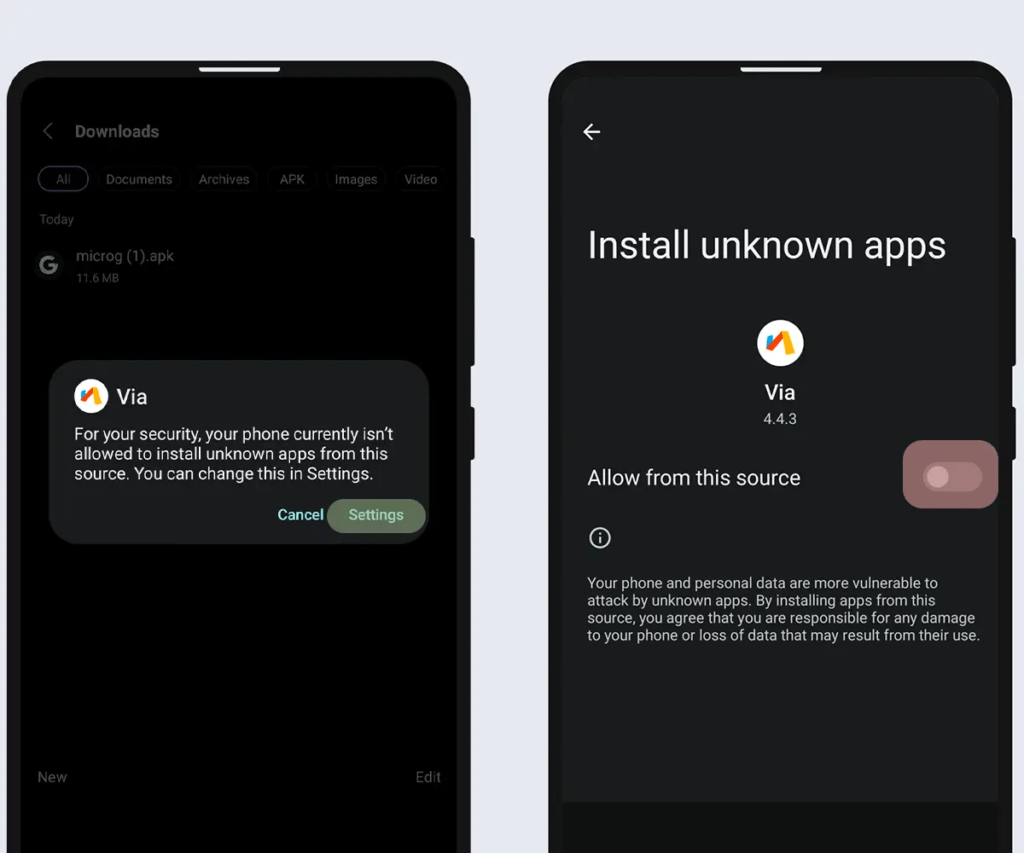 Hit Install and then click Done.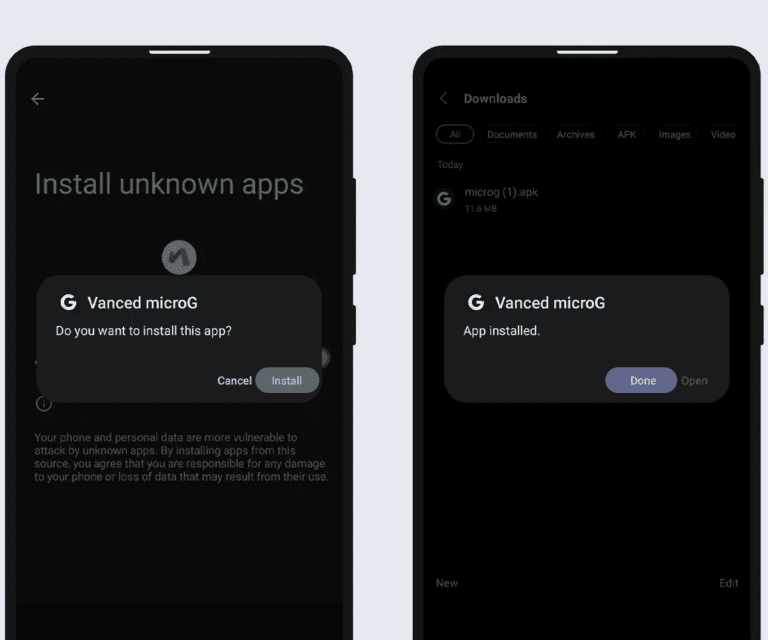 Now download the YT Revanced APK file. 
After that, tap on the file.
Click on Install.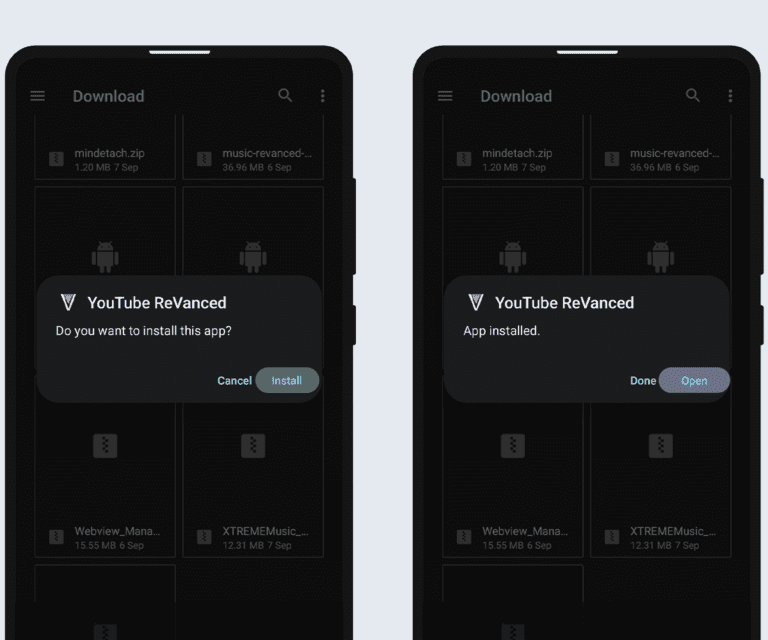 Hit Open.
Now you can visit the account option and log in with your Gmail. 
How to Install YouTube ReVanced Magisk Module on Rooted Android?
Download the ReVanced APK file first.
Now, open the Magisk app.
Find and click on the Module option located at the bottom right corner. 
Now click the Install from the Storage option. 
When your phone's storage opens, click on the zip file.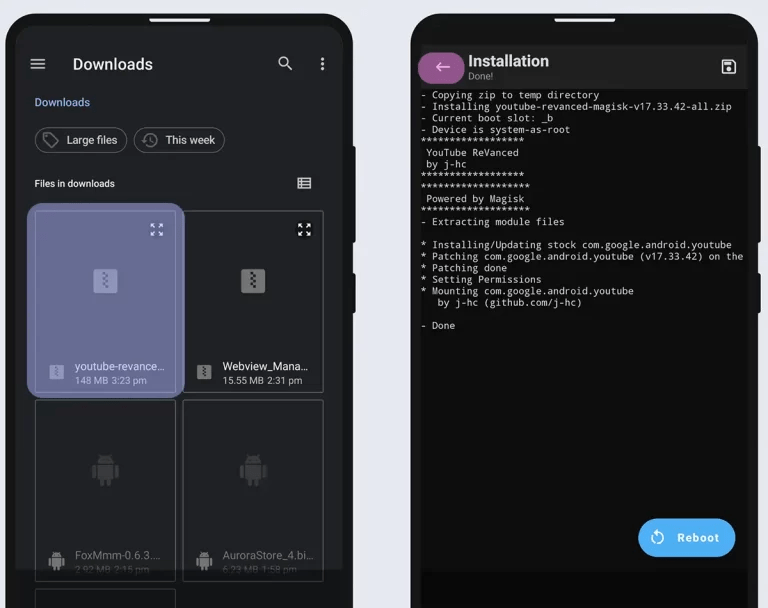 You will notice a flashing screen. So you need to wait until you see the reboot option. 
Now go back and download the MinDetach Magisk Module and flash it by following steps 3 to 6.
Finally, do a quick reboot.